Watering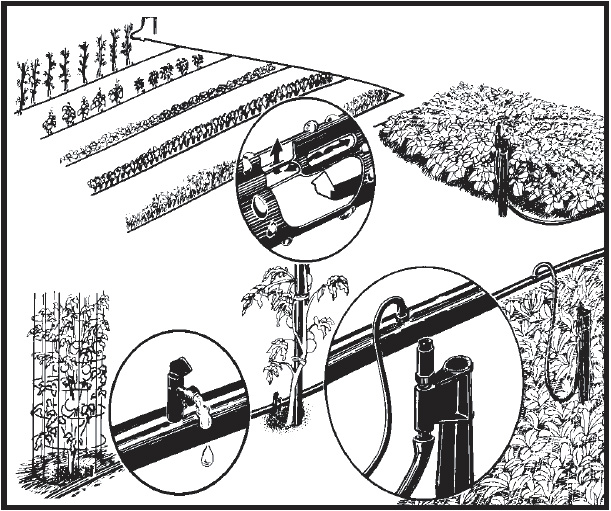 Vegetable gardens usually need about 1 inch of water (630 gallons per 1,000 square feet) per week in the form of rain or irrigation during the growing season. Gardens in sandy soil may need as much as 2 inches of water per week in midsummer. Where a water source is located close to the garden, there are few excuses (a local ban on watering during a shortage) for letting the garden suffer in dry weather.
Mulches that slow soil surface evaporation can reduce the amount of water needed. Soaker hoses and drip or trickle irrigation systems wet only the soil in the root zone and can cut in half the amount of water used.
Adequate soil moisture is important for seed germination, uniform growth, and productivity. The most critical periods for adequate moisture are during seed germination, early growth, flower and fruit development, and root enlargement of root crops, and immediately following transplanting.
Where a water source is not close to the garden, it is possible to water some plants with a little work. Partially bury 1-gallon plastic milk jugs between tomato, pepper, eggplant, squash, and other widely spaced plants. Punch a few small holes near the bottoms of the jugs before placing them in the soil. Fill the jugs periodically with water hauled to the garden. The water will slowly seep into the soil, providing moisture to the root zone. Periodically place 1 to 2 tablespoons of fertilizer in the jugs to stimulate plant growth.
Sprinklers
There are several choices of garden sprinklers, ranging from the simple garden hose with a spray nozzle to semi-automatic equipment. Many portable lawn sprinklers are adequate for the garden. Adjust the rate of water application so that it is not faster than it can enter the soil. Water applied too rapidly runs off, resulting in erosion or puddles, and causing soil compaction.
Place the sprinkler so plants do not interfere with the pattern of application. This often means mounting the sprinkler above the tops of the plants where wind may affect the distribution pattern. Small cans placed throughout the garden can be used to measure the amount of water applied and show the overlap necessary to approach an even application of water.
Since overhead sprinklers wet plant leaves, water early enough in the day to allow time for leaves to dry before night. This helps keep leaf diseases from developing and spreading. Each watering should wet the top 3 to 5 inches of soil. Frequent light waterings result in shallow rooting, susceptibility to damage by drought, and plants that are easily blown over.
Drip and Trickle
Soaker or perforated plastic hoses are excellent for watering the garden. Place the hose with holes up along one side of the plants or underneath an organic or plastic mulch.
A number of different drip and trickle irrigation systems are available online and through mail-order catalogs, magazine ads, and local distributors. These systems usually consist of a supply line that connects to a garden hose and delivery tubes that are placed next to the plants. A 150-mesh filter is recommended to prevent clogging small pores and emitters. The systems operate at low pressure and deliver small amounts of water very slowly through pores in the delivery tubes or emitters punched into the delivery tubes.
An irrigation system makes it possible to water a large garden all at the same time. You also are able to harvest, cultivate, spray, and do other garden chores while watering. The largest disadvantage of a drip system is the initial cost.
Advantages include these:
Reduces water use by one-half or more.
Water is placed where it is needed: at the base of plants and not in walkways.
Permits working in the garden while watering.
Keeps plant leaves dry.
Correct use of a drip irrigation system should keep vegetable plants actively growing in dry periods yet cause no problem when rain occurs following irrigation. The system, when properly operated, keeps soil at the base of the plant (root zone area) moist. This may require operating the system for short periods three or four times a week during dry weather. Never allow the soil to dry completely. Drip irrigation, when used correctly, prevents drought stress but is not designed to correct drought stress like sprinkler irrigation, which wets all the soil.
Single drip lines will not adequately water wide-row or raised-bed gardens, but several spray heads are available that do a good job in these special types of gardens when fitted to the drip irrigation delivery tube.

Publications
News
Watch
Listen
Contact Your County Office