Information Possibly Outdated
The information presented on this page was originally released on January 17, 2014. It may not be outdated, but please search our site for more current information. If you plan to quote or reference this information in a publication, please check with the Extension specialist or author before proceeding.
Raised beds make gardening easier
I don't know about you, but as I've gotten older, the thought of digging up an area of the yard to install a new planting bed has lost its appeal.
Between a bad back and bad knees -- not to mention bad elbows, shoulders and hands -- using a tiller to break up soil and adding lots of organic matter is just too much work. Along with the aches and pains, I hope age has made me a little wiser about work and relaxation in the garden and landscape.
My solution to new landscape beds is really an old idea: raised beds.
Mississippi gardeners will find that raised beds offer many advantages. They are easier on our backs and joints, but perhaps the greatest benefit of raised beds is the increased water drainage. Most landscape and garden plant problems I come across in Mississippi are related to poorly draining soil.
Growing plants and flowers in raised beds means the texture of the planting medium will remain loose and airy because it is not being walked upon. Raised beds also allow you to grow vegetables and other plants more densely than more traditional garden or landscape beds.
The construction parameters of raised beds are quite simple. The width of the bed should be no more than 4 feet. At this width, the longest reach is only 2 feet, which gives gardeners easy access to the bed from either side.
Sides constructed from hardscape materials will keep the growing medium where it belongs. The choice of materials is up to the gardener, but I like the newer treated lumber.
If you use lumber, I suggest 2-by-6-inch, 2-by-8-inch or 2-by-10-inch boards, depending on how deep you want the beds to be. A deeper bed gives you more planting options.
Of course, cedar, fir and redwood have natural resistance to decay if you don't want to use treated lumber. These materials are more expensive but will last much longer than untreated pine. Other options include using block, recycled concrete or recycled plastic boards.
You could fill the raised bed with native soil because the height of the bed will greatly improve drainage. But I want you to change your garden paradigm a little bit and treat your new raised bed like a very large container.
I never recommend using only native soil in containers. I like to see a lot of organic matter worked into that soil. In fact, my raised beds are filled with commercial bagged container media with a high percentage of peat moss, vermiculite and perlite. This media remains light, fluffy and well-drained with excellent porosity.
How much growing media or soil will a new raised bed need? A quick formula is to multiply length by width by depth, all measured in feet. This equation works for any raised bed regardless of dimensions.
Whoever thought we would need to use math in the garden?
Released:
January 17, 2014

Your Extension Experts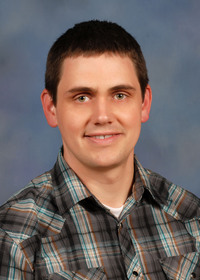 Assoc Extension/Research Prof