Information Possibly Outdated
The information presented on this page was originally released on October 31, 2011. It may not be outdated, but please search our site for more current information. If you plan to quote or reference this information in a publication, please check with the Extension specialist or author before proceeding.
Edging makes landscape beds pretty, easy to keep
From railroad ties and landscape timbers to rolls of plastic and metal edging, nothing adds interest to the landscape quite like nice, crisp bed lines.
We have all seen and used many types of landscape edging materials. But why not be a little creative? To get you started, here are some ideas for landscape bed lines between walkways and flowerbeds.
Vintage dinner plates placed in the ground on their edge create a bright garden bed edge. Get some from your local thrift store or stop at yard sales and buy chipped and mismatched plates.
A couple friends of mine enjoy collecting quality wines from around the country. They push the empty wine bottles in the ground upside-down for a unique edge. The green and clear glass creates a nice variation of natural colors. Small ferns have started growing in the clear bottles, adding uniqueness to the landscape bed line.
Remember that whenever you use a material that creates a hard vertical edge, you need to clean the edge up. And if the edging is breakable, such as the examples I've described, trimming may be difficult.
I don't like to use a weed eater, and I have a couple different strategies that work well for keeping bed lines clean.
The first and perhaps easiest is to cut in your bed lines. Use a sharp, square-edged garden spade to cut straight into the ground along the bed line. Then make a 45 degree cut from the bed towards the first cut. The small trench that results will hold your mulch and creates a very nice line between a grassy area and the landscape bed.
The other method is to use landscape pavers to create a space for your mower wheels to run over as you mow your lawn. This method requires more work, as the bed line must be dug out so the tops of the pavers are ground level.
Placed end-to-end, the pavers create a nice, thin ribbon that forms a crisp bed line. I find it a bit difficult to keep my mower wheels on such a narrow bed line, though, so I prefer pavers laid side-by-side. This way, they provide an 8-inch edge and add a sense of formality to the landscape.
The pavers can simply be set in soil at ground level, but if you do this, they can move around and get dislodged. I set my pavers in mortar mix to create a stable surface for my mower wheels.
Properly edging your landscape beds not only looks sharp, but it also makes maintaining your landscape easier.
Released:
October 31, 2011

Your Extension Experts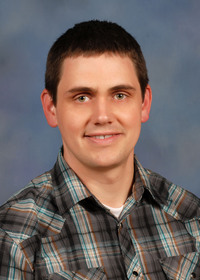 Assoc Extension/Research Prof