Information Possibly Outdated
The information presented on this page was originally released on August 17, 2020. It may not be outdated, but please search our site for more current information. If you plan to quote or reference this information in a publication, please check with the Extension specialist or author before proceeding.
MSU sweeps Grand Awards, earns other honors in annual CPRAM competition
STARKVILLE, Miss.—Staff members in Mississippi State's Office of Agricultural Communications and Office of Public Affairs are bringing prestige to the university with two Grand Awards and other honors from the College Public Relations Association of Mississippi's annual competition.
"Student Testimonial: Urita Agana," a video produced by OPA and its University Television Center, received the Grand Award in the senior division's electronic media category during CPRAM's recent recognition program held virtually due to the coronavirus pandemic. Also taking home a first-place award in the new media/social media category, the video was created by Checky Herrington, OPA brand manager; UTC senior producers Chris Misun and James Parker; and Bethany Shipp, OPA marketing and communication coordinator.
A Grand Award and first-place print media award went to the 2019 print issues of MSU's Alumnus magazine, published by OPA and the MSU Alumni Association. Team members for these issues include John Rush, vice president for development and alumni; Sid Salter, chief communications officer and OPA director; Jeff Davis, alumni association executive director; Amy Cagle, MSU Foundation publications manager; Erica Way, MSU Foundation marketing manager; Addie Mayfield, MSU Foundation communications specialist; Harriet Laird, OPA associate director; Susan Lassetter, OPA publications editor; Heather Rowe, OPA digital design editor; Allison Matthews, OPA news editor; OPA writers James Carskadon and Sasha Steinberg; OPA photographers Megan Bean, Logan Kirkland and Beth Wynn; Kelly Donoho, MSU Athletics photographer; Vanessa Beeson, Forest and Wildlife Research Center publications editor; Bonnie Coblentz, OAC senior extension associate; Keri Collins Lewis, OAC media relations manager; Kevin Hudson, OAC photographer; Tom Thompson, College of Veterinary Medicine coordinator of photographic services; and MSU alumni and contributing writers Emmalyne Beck, Walt Harrington and David Murray.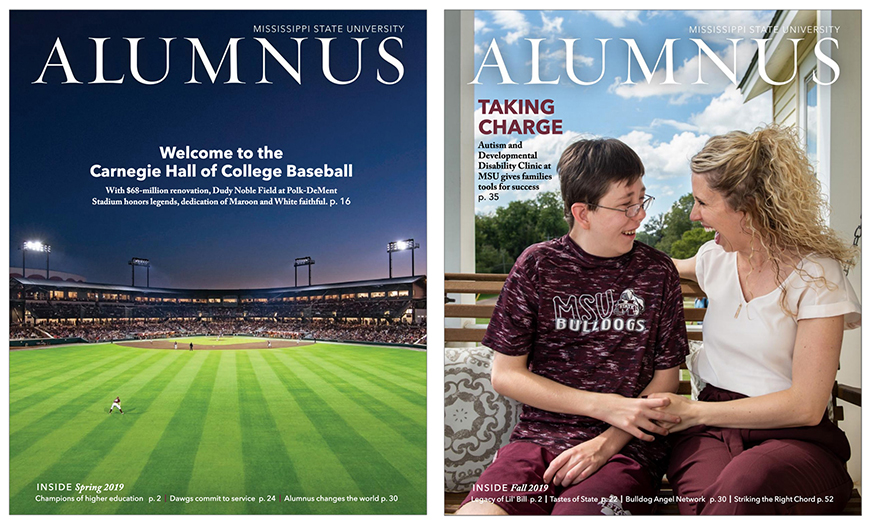 CPRAM is a consortium of public relations professionals employed at Mississippi's public and private colleges and universities.
"We are so fortunate at MSU to have a group of talented, dedicated staff members who take great pride in their work and believe in the university. That's almost always a recipe for success in marketing and branding," said Sid Salter, MSU chief communications officer and OPA director.
Elizabeth Gregory North, OAC department head, said, "We really appreciate the opportunity that CPRAM provides us to learn from all the universities and colleges in Mississippi, and recognition from this group of our peers makes it mean that much more."
First Place honors include:
—feature story "The Concert King: Tupelo Native Shares Memories and Lessons from MSU, Music Industry Careers," Sasha Steinberg.
—single piece of non-sports artwork "Tastes of State," Heather Rowe, Susan Lassetter and Vanessa Beeson.
—digital art/photo illustration "5 Steps to Prevent Opioid Misuse, Elizabeth Gregory North and Art Shirley, OAC web communications manager.
—television spot "Unmanned Aircraft Systems: 60 spot (MSSTUAS6020H)," David Garraway, UTC director; Checky Herrington; and James Parker.
—television program "Maroon and White Tonight - Episode 016," Neil Price, "Voice of the Bulldogs"; Anthony Craven, WMSV radio station general manager; and UTC staff Steve Carver, senior producer; Mike Godwin, technical and operations manager; Lea Throgmorton, broadcast engineer; Hal Teasler, creative manager; student workers Jacob Breitenbach and Navin Solomon; and David Garraway.
—public relations campaign "National Garden Clubs Campaign," OAC staff Leah Barbour, marketing and communication coordinator; Kim Trimm, extension associate II; and Chris Sowers, print manager.
Second Place winners are:
—feature story "Treasures From the Site of John The Baptist's Martyrdom Brought to New Light Through MSU's Cobb Institute of Archaeology," Allison Matthews and Megan Bean.
—television spot "Mississippi State University 2019 Commercial," Checky Herrington; Sid Salter; Harriet Laird; Bethany Shipp; and Leah Gibson, OPA social media coordinator.
—television program "Ragtime 2018 Episode 1," Steve Carver; UTC student workers Terry Johnson and Nick Erebia; James Parker; Chris Misun; Navin Solomon; Mike Godwin; Barry Hughes, UTC broadcast maintenance engineer; and David Garraway.
—multi-media presentation "The Conversation 2019," David Garraway and Harriet Laird.
—web advertisement "Mississippi State University Admissions Digital Advertising," Checky Herrington and Bethany Shipp.
—new media/social media "Homecoming King," Leah Gibson and Tommy Woodward, UTC senior producer.
OAC also brought home a Third Place award for:
—television program "Farmweek Feature: Ted Parker 2019 Mississippi Farmer of the Year," senior extension associates Brian Utley and Tim Allison; Zac Ashmore, video producer; and Jonathan Parrish, extension associate I.
A video of all CPRAM senior division award-winning entries is available at https://youtu.be/nOor6z_r-OM.
Learn more about the Office of Agricultural Communications at https://extension.msstate.edu/agricultural-communications; Office of Public Affairs at www.opa.msstate.edu; and University Television Center at www.utc.msstate.edu.
MSU is Mississippi's leading university, available online at www.msstate.edu.
Released:
August 17, 2020