Information Possibly Outdated
The information presented on this page was originally released on March 17, 2020. It may not be outdated, but please search our site for more current information. If you plan to quote or reference this information in a publication, please check with the Extension specialist or author before proceeding.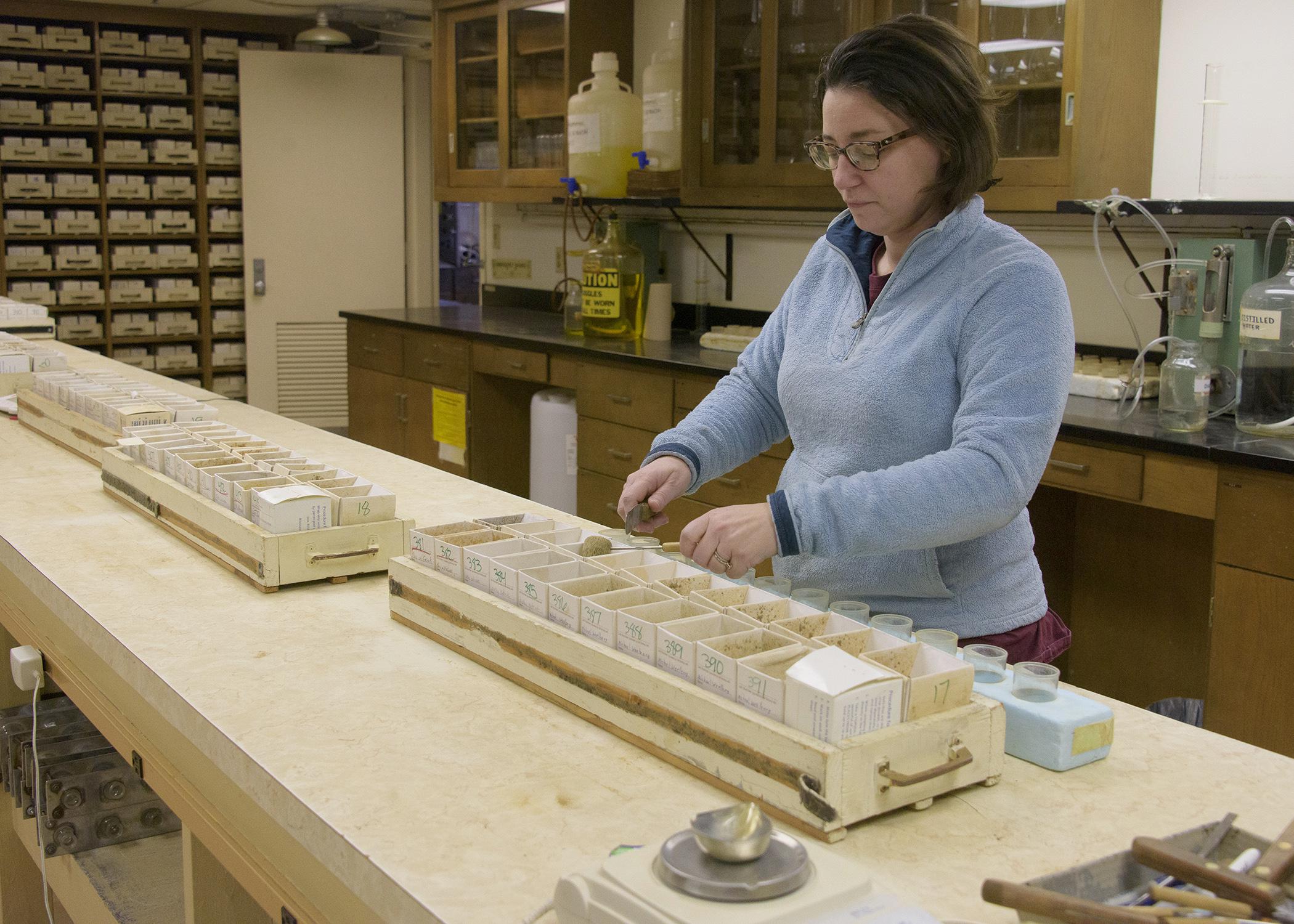 MSU Extension revises soybean fertilizer info
STARKVILLE, Miss. -- Fertilizer recommendations are constantly examined and rarely modified, but change came this year after Mississippi State University research demonstrated higher potassium recommendations increase soybean yields.
Larry Oldham, soil specialist with the MSU Extension Service, said the MSU Soil Testing Laboratory announced the changes. The Mississippi Soybean Promotion Board backed the research that lead to the updated recommendations.
"We have sufficient data to support changes in MSU soil testing's soybean potassium recommendations," Oldham said. "The potassium recommendations for soybean were too low for certain soil test recommendation categories."
Oldham said soil samples are categorized in one of five categories from very low to high based on extractable potassium levels. Samples are given a fertilizer recommendation based on their category.
"We adjusted the potassium thresholds for each of these categories," Oldham said. "For example, soil with a potassium reading of 120 used to be rated as medium, but now is rated as low in potassium."
While the categories grouping potassium content changed, the only change in recommended potassium rates was made to the low category. MSU now recommends potassium be applied at the rate of 90 pounds per acre rather than 60 pounds per acre as previously indicated.
"As an example of how this change might impact a sample recommendation, under old recommendations, soils testing at 250 pounds per acre of extractable potassium with a CEC of 30 would be classified as a high rate and thus not get a potassium recommendation," Oldham said. "Our new data suggests this is not sufficient, and additional potassium would trigger a yield response."
CEC stands for cation exchange capacity and refers to the soil's ability to hold onto essential nutrients and provides a buffer against soil acidification. These recommendations went into effect Jan. 15.
The MSU Soil Testing Lab, under the management of Keri Jones, conducted the needed tests.
"Soil testing is an important management tool that can provide assistance with decisions concerning fertilizer and lime application," Jones said. "Our lab analyzes soil from agricultural fields as well as homeowners interested in healthier lawns and gardens."
Bobby Golden, a rice agronomist with the Mississippi Agricultural and Forestry Experiment Station, said researchers regularly revisit recommendations to ensure they account for current conditions and practices.
"As our soybean production practices change over time and genetic gain occurs with new varieties, soil test recommendation need to be updated," Golden said.
Golden said he uses at least 30 site years of data to ensure sufficient information to warrant a change. Site years is a measure of the number of sites tested multiplied by the number of years over which data is collected.
In this case, Golden used five years of data from test sites before recommending the change to rates of potassium required in soils being used for soybean production.
This work involved several researchers and was conducted at MSU's Delta Research and Extension Center in Stoneville and the R.R. Foil Plant Science Research Center in Starkville, as well as on commercial fields of cooperating Delta producers. MSU Extension, MAFES and the Soybean Promotion Board funded and supported the research.
"To find responsive sites you generally have to go to the problem," Golden said. "The on-farm trials we conducted that are contained in this data set ranged from Tunica to Redwood and as far east as Sidon."
These recommendations and research data are available at http://extension.msstate.edu/publications/new-soybean-potassium-recommendations.
Revised Soybean Potassium groupings based on soil test extractable K in pounds per acre
| | | | | |
| --- | --- | --- | --- | --- |
| Category | CEC ≤7 | CEC 7-14 | CEC 14-25 | CEC 25+ |
| Very Low | 0-70 | 0-90 | 0-120 | 0-150 |
| Low | 71-150 | 91-190 | 121-240 | 151-260 |
| Medium | 151-200 | 191-240 | 241-290 | 261-320 |
| High | 201-350 | 241-420 | 291-510 | 321-560 |
| Very High | 350 + | 420 + | 510 + | 560 + |

Current and revised soybean recommended fertilizer rates in pounds per acre for K20.
| | | |
| --- | --- | --- |
| Category | Current | Revised |
| Very Low | 120 | 120 |
| Low | 60 | 90 |
| Medium | 60 | 60 |
| High | 0 | 0 |
| Very High | 0 | 0 |