Information Possibly Outdated
The information presented on this page was originally released on January 26, 2012. It may not be outdated, but please search our site for more current information. If you plan to quote or reference this information in a publication, please check with the Extension specialist or author before proceeding.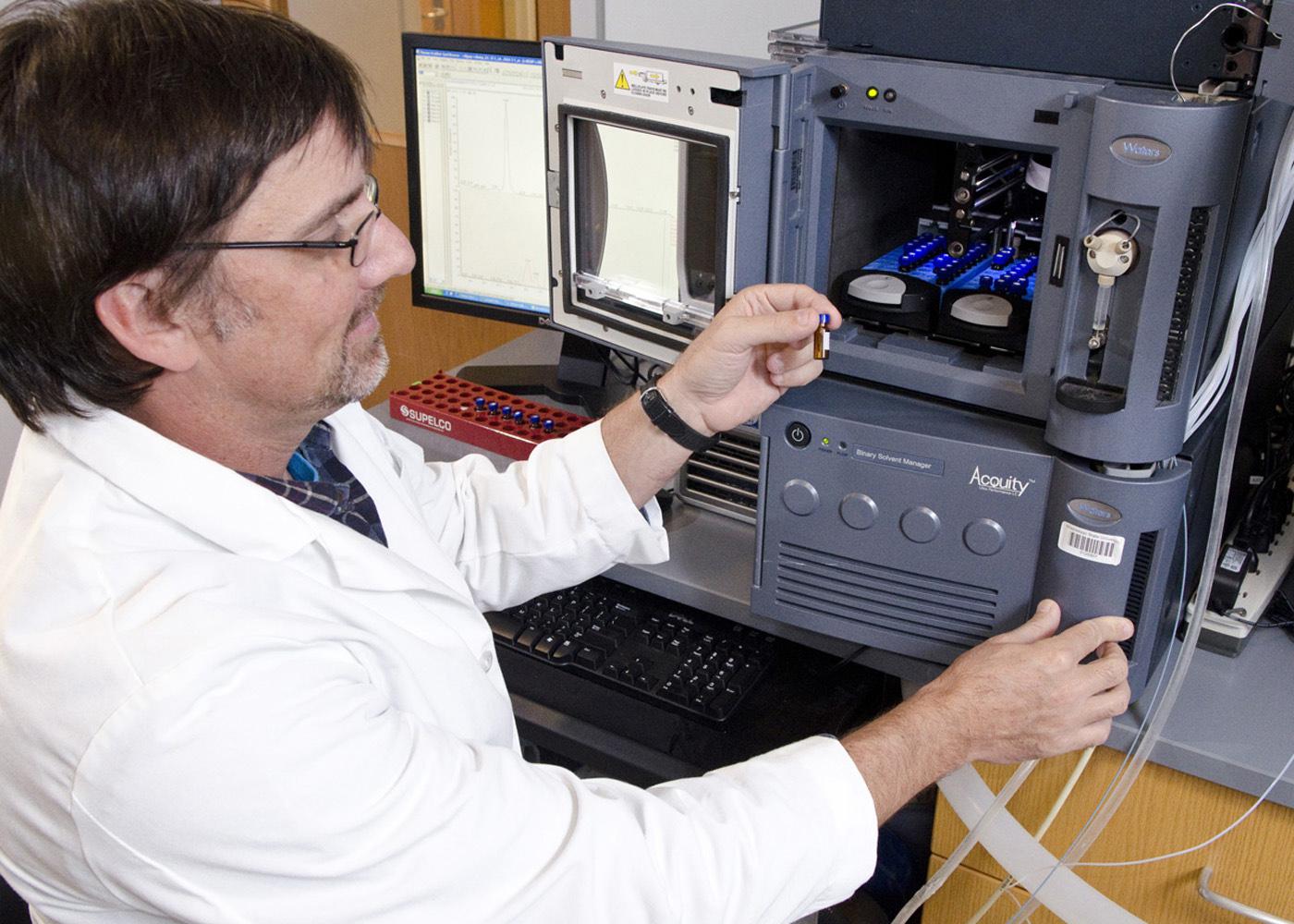 CVM professor active in disease research
MISSISSIPPI STATE – Dr. Matt Ross, an associate professor of toxicology at Mississippi State University, has a passion for research that has led to his work involving pesticide and lipid metabolism in the Center for Environmental Health Sciences and the Department of Basic Sciences.
We are studying enzymes that can both detoxify pesticides and metabolize endogenous lipid molecules that are important in inflammation and oxidative stress," Ross said. "We look at how pesticides may interfere with the metabolism of cholesterol, which occurs in specialized cells called macrophages. When this process is dysregulated, atherosclerotic heart disease often results."
In the Center for Environmental Health Sciences at MSU's College of Veterinary Medicine, Ross focuses on how environmental pollutants may lead to chronic disease.
"We're all exposed to pesticides in varying amounts, so we're looking at how environmental factors may contribute to human disease," Ross said.
Ross is also looking at how pesticides can interfere with the endocannabinoid system in cells. Exploiting the beneficial effects of the endocannabinoid system has become a popular area of disease research in both academia and industry.
"We're looking at molecular mechanisms to better understand disease processes, which will hopefully provide a clearer picture as to how environmental factors contribute to this process and perhaps lead to the development of beneficial drugs," Ross said.
His work also includes studying the way people differ in their ability to detoxify a pesticide in their body following exposure.
"We're looking at the underlying reasons for these differences, and we may be able to identify susceptible populations," Ross said. "Some groups of people are more inefficient at metabolizing pollutants when exposed to them and, therefore, may be at greater risk following exposure."
Dr. Stephen Pruett, Basic Sciences department head, said Dean Kent Hoblet recently named Ross Group Leader for Lipidomics. This recognized his expertise in a new field of study that characterizes changes in the lipids in cells or body fluids, which can provide important health information.
"Matt is one of our most productive faculty members in terms of peer-reviewed publications and highly competitive grant funding from the National Institutes of Health," Pruett said. "He is also a person with whom everyone likes to work."
Ross was born in New Zealand to New Zealander parents, but moved when he was 5 to the San Francisco Bay Area and then to Southern California. He earned an undergraduate degree in chemistry at the University of California at Berkeley, then went to work for a pesticide chemistry lab in Richmond, Calif.
He went back to school to earn a PhD in toxicology from the University of California at Irvine, then completed post-doctoral work at the University of North Carolina at Chapel Hill, earning a fellowship from the National Institutes of Environmental Health. Ross came to MSU-CVM as an assistant professor in January 2004.
Released:
January 26, 2012