Information Possibly Outdated
The information presented on this page was originally released on August 12, 2010. It may not be outdated, but please search our site for more current information. If you plan to quote or reference this information in a publication, please check with the Extension specialist or author before proceeding.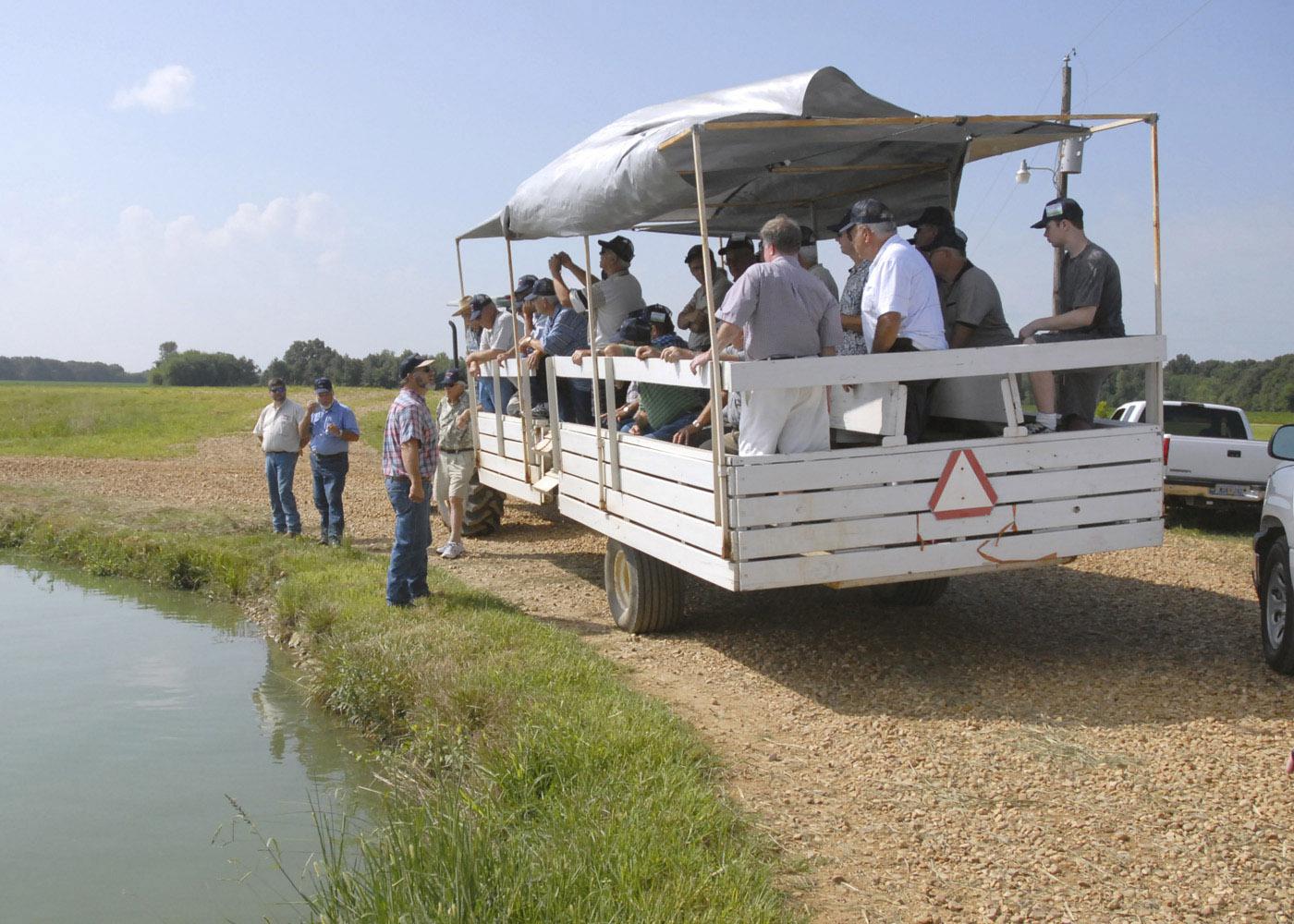 Virginia ag supporters tour Mississippi farms
VERONA -- Mississippians brag about the state's famous writers, musicians and athletes, the international ballet competition and historic homes and sites, but many do not realize agriculture deserves bragging rights, too.
Lee County Extension Director Sherry Smith has a deep appreciation for farms and farmers. She recently hosted more than 40 men from Virginia who traveled to Mississippi to tour agricultural activities in the state. Although most are not full-time farmers, they all have some background in agriculture.
"They contacted us several months ago because they were interested in coming to the area. This seemed like a great opportunity to show off the quality of Mississippi farmers," Smith said. "They did not have a specific agenda and were open to any recommendations of farms to visit. In addition to local farms, we helped them find places to tour on their trip down through other states."
Smith and Scott Cagle, Chickasaw County Extension director, lined up several types of farms for the group to visit. Their first stop was the farm of Jay Schmidt near Okolona. Schmidt explained farming practices related to corn, soybeans, truck crops and catfish.
"This farm is incredibly diverse, and the Schmidts are very involved in Extension programs and follow our recommendations," Cagle said. "We wanted the group to see how Mississippi State University's Extension Service works with farmers to develop plans and grow their crops."
The group also toured the National Fish Hatchery in Tupelo, a beef cattle farm in Chickasaw County and a sweet potato farm and processing facility in Calhoun County.
Charles Martin, director of the Roanoke-Botetourt (Virginia) Farm Tour, said the 2010 trip was one of the most diverse and informative tours in the group's 60-year history. They take short four-day trips every year, but every fifth year, they travel farther, on six-day journeys.
"Quite honestly, the economy was a big reason we chose Mississippi over the St. Louis or Chicago area this year," he said. "But we got lucky and found people who bent over backwards to show off the state's agriculture."
The group is made up of men of all ages, and most have been going on the tours for years. For some, it is an opportunity to travel with their grandfather, father, son or grandson.
"There is a lot of camaraderie among this group, but agriculture is what brings us together," Martin said. "The tours give us the opportunity to see how farmers do things in other areas. We learn from them, and they learn from us."
Released:
August 12, 2010