Keeping Jobs in Mississippi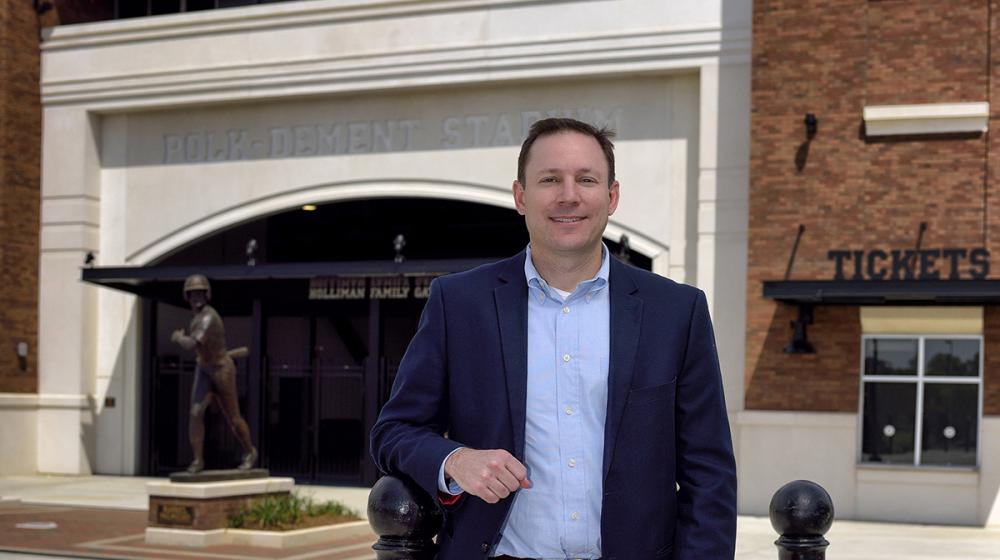 Matt DeVoss worked with Jackson Precast Inc. on the white concrete in the Polk Dement Stadium.
Jackson-based company works with Extension to meet regulatory standards
Story by Leah Barbour · Photos by Kevin Hudson
Two years after Jackson Precast Inc. produced 911 concrete panels—totaling more than 105,000 square feet—for Mississippi State University's football-stadium renovation in 2015, the state's environmental standards for concrete-production companies changed.
When owner Matt DeVoss learned about the state's new stormwater-treatment standards, he asked Mississippi Department of Environmental Quality (MDEQ) officials what steps his business needed to take to maintain compliance.
MDEQ sent him to the Small Business Environmental Technical Assistance program, and representatives there connected DeVoss to the Mississippi State University Extension Service. DeVoss met with Dr. Jason Barrett, assistant Extension professor with Extension's Center for Government and Community Development.
Together, the men formed a new stormwater and pollution-prevention plan for Jackson Precast Inc. Just a few months later, the manufacturer was subcontracted to create 99 panels—approximately 8,000 square feet—for MSU's baseball-stadium renovation.
Though that job, too, is now complete, Jackson Precast Inc. remains a profitable Mississippi company delivering architectural precast, suitable for a variety of construction projects, for contracts around the Magnolia State and beyond.
---
Jackson Precast Inc. is Mississippi's only company that specializes in producing architectural precast, DeVoss explains. When the business competes for jobs, out-of-state manufacturers are its main competitors.
Precast is created for construction offsite— poured into a mold, removed and cured, and transported to the construction site. Different from structural precast, architectural precast is made of exotic aggregates of different colors that create high-strength concrete.
The white concrete in both MSU renovation projects is made of aggregates from the Bahamas and imported from Mobile, Alabama. Jackson Precast Inc. etched the baseball stadium's name, Polk- Dement Stadium, in the white concrete framing the public entrance to the ballpark.
Though some materials for the project were sourced from outside the state, DeVoss strives for Jackson Precast Inc. to get materials, whenever possible, from fellow Mississippi businesses. For example, the baseball stadium's bricks stacked above the white concrete pillars came from Columbus Brick in Lowndes County.
"We make products that last," DeVoss explains. "Our panels have a hundred-year lifecycle. We make 5,000 PSI, that's pounds per square inch, high-strength concrete for safe rooms, courthouses, universities, and a lot of office buildings.
"We've always had wastewater-treatment permits and no problems, but, when the regulations changed in 2017, we had requirements we had never had before," he continues. "There was a lot of paperwork, and we needed to redo our retention pond."
When the batch plant, where concrete is made from cement and aggregates, is cleaned, the water that goes to the retention pond necessarily includes the cement paste, rock, and sand from the concrete-making process. The water in that pond must be filtered, DeVoss says.
"We developed a plan with Jason for the 20 acres that we manufacture on. When the rainwater hits and doesn't naturally permeate into the soil, that runoff goes into the retention pond, too," DeVoss says. "We have to make sure the water doesn't run over the pond, and we test the water to make sure no chemicals are seeping out.
"Jason has a way of understanding and explaining, and he got us set up to get the right procedure in place. I can't say enough about how thankful we are to Dr. Jason Barrett for helping us."
Barrett says he appreciates the opportunity to share his expertise to benefit Mississippi businesses.
"I never fully know the details of a project until I get on-site, but it's a pleasure to work with folks like Matt and Jackson Precast. Their desire to produce a quality product and support Mississippi is evident. It's very encouraging to work with and provide technical assistance to businesses like this," Barrett explains. "The Small Business Environmental Assistance program is a phenomenal resource to Mississippi businesses, and I feel blessed to be a part of it."
Since developing the stormwater plan for Jackson Precast Inc. in 2017, Barrett has become the go-to expert on the environmental regulations impacting his small business, DeVoss says.
"When we have questions we don't understand, like last year when we got a letter from MDEQ, we call Jason," DeVoss explains. "It can be hard to understand what MDEQ wants, but Jason can tell us what they need.
"With Jason, he's always open. He always ends his calls with, 'Call anytime you need help.' I would definitely recommend small businesses with environmental questions call Dr. Jason Barrett with Extension."