Sunflower River Basin Research and Extension Project
Is your production operation located in Mississippi?
Want to earn an additional $10K annually?
Enroll about 100 acres across five fields over three years and receive $100 per acre each year.
Four agricultural producers* will be selected as partners in this research and Extension project, to gain new understanding of research-based practices to improve their own operations and to benefit other producers in their region.
Fill out this form to apply!
Eligibility Requirements*
Enroll five similar-sized fields.
located in Sunflower River Basin
rotating between corn and soy production
sized approximately 20 acres each
leveled with pipe and pad systems already in place
plumbed for surface water irrigation (with a tailwater storage pond or adjacent to a bayou or river)
Allow access to research partners monitoring the site.
stormwater samplers and water level logs at outflow pipes
weather station installed on property
bird surveys every 7–10 days
routine soil sampling
sediment core sampling
aquatic insect sampling
farming data for the enrolled fields, including inputs, water use, labor, yield, etc.
Host and participate in one field day each year, to be held in a covered area or barn. MSU Extension will facilitate the event, where other producers will visit the field site and learn about the practices.
On participating acres, researchers will examine the effects of different fall/winter strategies for managing shallow-water habitats to improve:
soil health
production yields
wildlife habitat
nutrient runoff
soil runoff
Results that identify and quantify the economic realities and the environmental benefits will be shared with producers through coordinated Extension efforts. A farmer-to-farmer peer network will be developed to promote practices and secure funding for continuing implementation of shallow-water habitat management practices in the Delta.
For more information, please fill out this form or contact Project Director Jason Hoeksema at dwindbirds@gmail.com.
Ecosystem Services and Farm Activities chart
Corn growing begins in April, and harvest prep is complete by October or earlier. Soy growing begins in May, and harvest prep is over by November or earlier. Shorebird migration occurs from mid-July to mid-December. Early ducks begin arriving in August, and winter ducks leave by April. Denitrification efforts, to reduce nitrogen runoff in surface water, peak from September through November, and soil conservation efforts, to reduce sediment runoff, begin in September and continue into February. Prep planting begins in February and ends in April.
A potential conflict occurs from February until March, when winter ducks, soil conservation, and prep planting may overlap. Another conflict is possible from late August to early October when harvest prep, shorebird migration, duck migration, denitrification, and soil conservation efforts all may overlap.
The active flood timing for a fall flood treatment is from September through mid-November, and the duration of the active flood in winter flood treatment is from mid-November to the end of January. The fall and winter flood active flood time and duration is from September through January.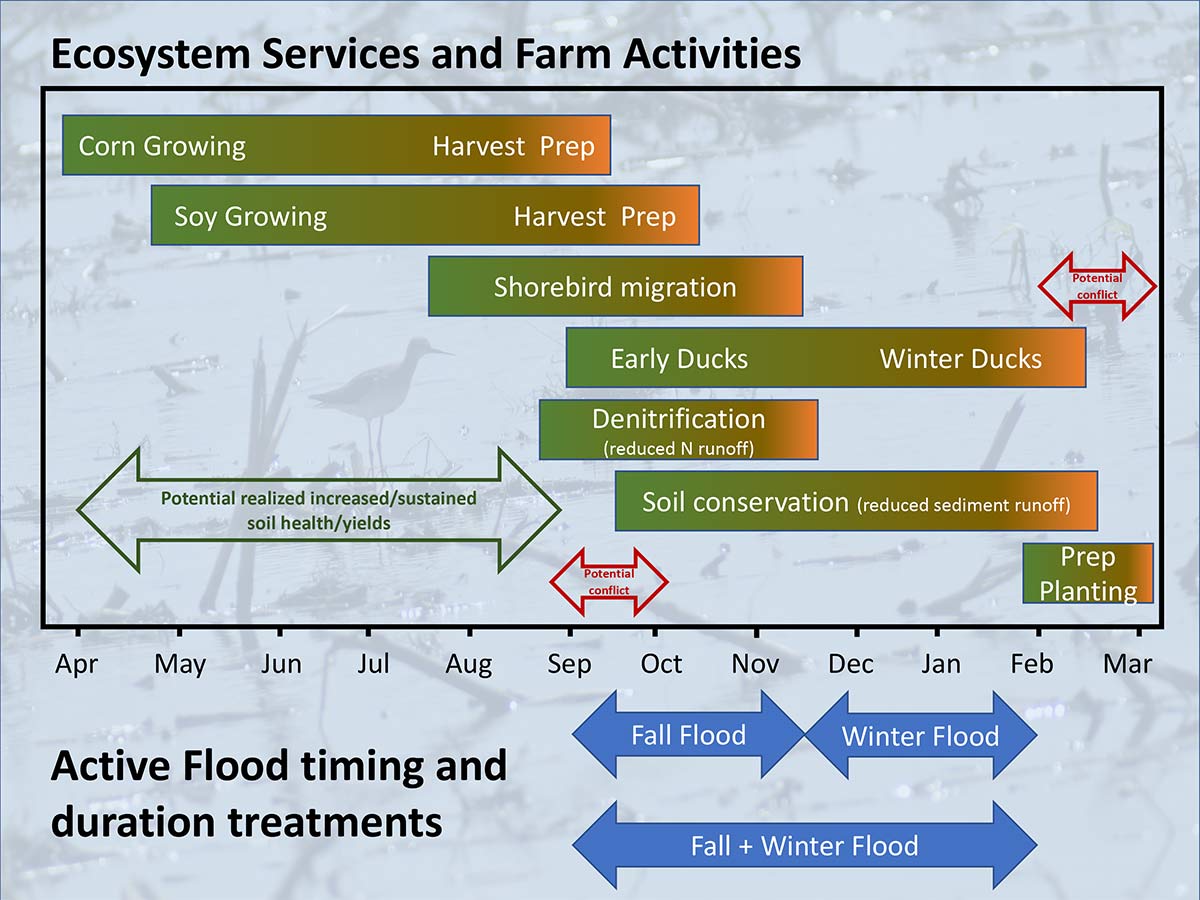 Select Your County Office