The Food Factor | Breakfast Burritos
I'm always looking for ways to make healthy eating easier! This recipe for breakfast burritos makes eight tasty treats you can easily freeze for a low-cost, protein-filled breakfast on the go!
You can find a printable version of this recipe for breakfast burritos from our friends at Iowa State Extension and Outreach.
This is a great recipe to adapt to your personal tastes! Try adding some chopped fresh spinach as you cook the eggs. Swap Monterey Jack cheese for the cheddar. Spread a layer of refried beans on the tortilla before you roll it up. Or if you really like spicy food, cook up some chorizo or other sausage and add it to the cooked eggs. Whole grain tortillas are tasty, too!
What's your go-to recipe for a fast breakfast? Let me know on our Facebook page or on Twitter!
Video by Jonathan Parrish
RECIPE:
Breakfast Burritos
1 cup potatoes, diced (1 medium potato)
1/2 cup onions, diced (1/2 medium onion)
1 cup bell peppers, diced (1 medium pepper)
8 eggs, beaten
1/8 teaspoon garlic powder
1/4 teaspoon ground black pepper
1 cup 2% fat cheddar cheese, shredded
8 (8 inch) flour tortillas
Directions:
Spray a large skillet with cooking spray. Cook the potatoes for 6-10 minutes over medium heat.
Add onions and peppers to the potatoes. Cook for 3-4 minutes until the potatoes are browned.
Add beaten eggs to the vegetable mixture. Cook for 4-5 minutes over medium heat. Stir off and on until there is no liquid.
Stir in the garlic powder and pepper.
Roll up each burrito. Use 2 tablespoons of cheese and 1/2 cup of the egg mixture in each tortilla. Serve or freeze.
You can freeze the burritos. Wrap each burrito tightly in plastic wrap. Freeze in a single layer on a cookie sheet. Seal wrapped burritos in a freezer bag when they are frozen.
To reheat the frozen burritos: Remove the plastic wrap. Wrap burrito in a damp paper towel. Set microwave on medium power. Heat burrito for 3-4 minutes.
Posted on:
November 9, 2018
Subscribe to Extension for Real Life
Fill in the information below to receive a weekly update of our blog posts.

Recent Posts
Heat stress in dogs is just as serious and life-threatening as it is for humans. It is important to take steps to keep them cool outdoors during high temperatures and know the signs of heat stress. File photo by MSU Extension Service/Susan Collins-Smith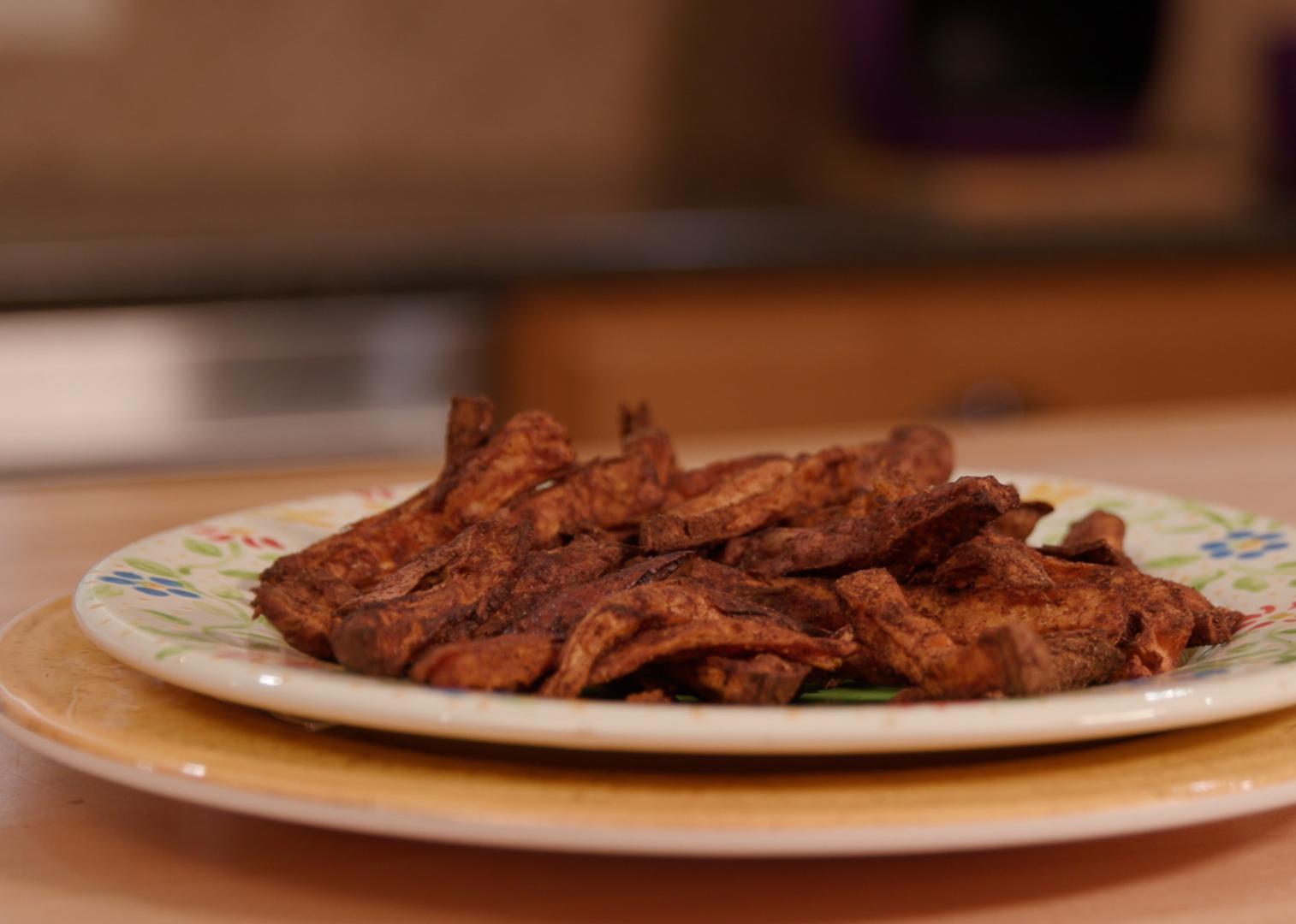 Whether you serve these Sweet and Spicy Sweet Potato Fries as a side dish or a fun snack, you'll enjoy the health benefits of sweet potatoes, including fiber, beta carotene, and vitamin A.