Go Green: How to Start a Compost Pile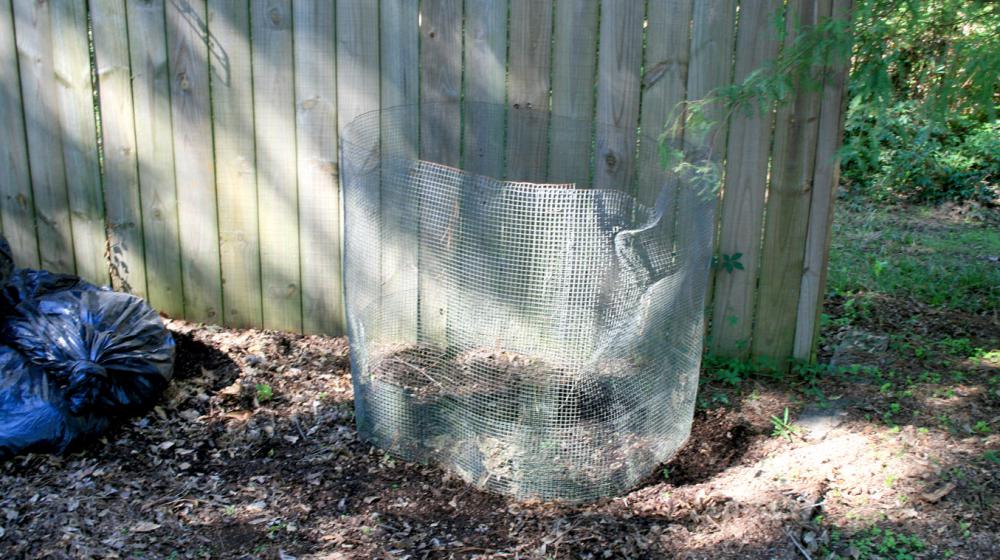 You don't have to have a fancy enclosure to compost your organic waste. Inexpensive hardware cloth can be used to enclose a small, layered pile. (Photo by MSU Extension Service/Gary Bachman)
Compost is a great soil conditioner. It helps the soil hold water and improves clay and sandy soils. Starting your own pile is easy and can help keep organic waste out of landfills.
Compost bins can be homemade or purchased from a commercial source. Turning the pile on a regular basis will help speed the decomposition process by evenly distributing heat. A commercial bin can make this process easier.
Household waste that can be composted includes:
Leaves
Grass Clippings
Shrub trimmings
Egg shells
Coffee grounds
Fruit and vegetable wastes
Tea bags
Cardboard
Paper
The breakdown process takes at least six months to complete. So, if you start now, you'll have compost for your fall plants.
However, there are some guidelines you'll want to follow when building and managing the pile. So check out our website and resources to learn more about composting and how to do it yourself.
More information can be found in Extension Publication 1782, "Composting for the Mississippi Gardener."
Posted on:
March 20, 2018
Subscribe to Extension for Real Life
Fill in the information below to receive a weekly update of our blog posts.

Recent Posts